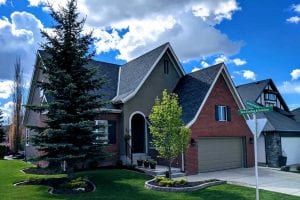 Great State Roofing is locally owned and operated in Huntersville, NC. We service customers in the Lake Norman, Charlotte and surrounding areas. We strive to be the best roofing contractor in the area. Our goal is to provide property owners in our community with a reliable and honest contractor they can trust. We do this by offering excellent customer service, the highest quality materials and professional workmanship.
Great State Roofing believes in quality work and quality service. From the first customer contact to the completion of the project, we are known for professionalism, quality and dedication to our customers. We will always be accessible for any questions or concerns you may have.
When it comes to roofing, consumers rely heavily on the knowledge, expertise, and integrity of the contractor. It is important to use a contractor that is reliable, trustworthy, and most important of all, knowledgeable about the variety of materials that are available, and which system would best serve the needs of the job and the customer.
We have proven ourselves in the industry as a reliable, quality-oriented and professional licensed contractor.
We are fully licensed and insured for your protection
Local references available upon request
Only premium materials used on all projects
Supervisor will be on site to ensure safety and quality control
Manufacturers recommendations, and code are our minimum standard
Don't trust your residential roofing to anyone else – you can depend on us for getting the job done right the first time, on time and within your budget. Call today and we can evaluate your roof, give you our recommendations and provide a detailed scope of work to be performed.
MISSION STATEMENT
At Great State Roofing, our mission is to serve the community in both the residential and commercial market by providing the highest quality materials, workmanship and customer service. We are build on honesty and loyalty to our customers and employees. We are dedicated professionals and strive for a position of leadership in the roofing industry. 
Get In Touch.
Please use our contact form for any questions comments or concerns or to schedule your free, no obligation inspection or estimate. We will get back with you as soon as possible. Thank you for considering Great State Roofing as your preferred contractor.
Call Today (704) 912-1240